Prevent Child Abuse and Neglect
The Children's Division devotes its work to protecting Missouri's children. In April, national Child Abuse Prevention Month, we remind our citizens that prevention is a responsibility we all share.
Child Abuse Prevention Month
Missouri Kids First is one of the many organizations that works with the Children's Division to put an end to child abuse and neglect. For a calendar of events regarding statewide prevention month activities, to add an event to the statewide prevention activities calendar or to find resources relating to child abuse and neglect prevention, please click on the link below.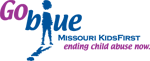 One way to prevent child abuse and neglect is to understand that children need consistency, love, boundaries and care. Some simple ways to do this is to provide the following for the children in your life:
tell your children you love them every day
listen when they talk
spend time with them
make them feel safe and provide order in their life
Children are going to act up. When your child does act up, make sure you explain you disapprove of the behavior but love your child. This can be a challenge for many of us. Instead of making negative attacks use positive language to explain how your child can act more appropriately. It is also important to be consistent with your children. Clear and consistent rules give your child boundaries they will learn to follow.
You are the eyes and ears of our communities. If you suspect child abuse or neglect, please call the Child Abuse and Neglect Hotline at 1-800-392-3738.

04/02/08