Job Assistance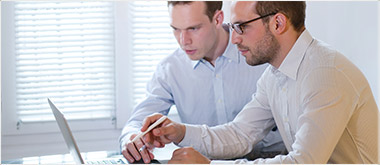 Vocational Rehabilitation Program
People who are blind and visually impaired work with a rehabilitation team to develop an employment goal. This team might include a rehabilitation counselor, a rehabilitation teacher and/or mobility specialist.
---
Who Is Eligible?
You may be eligible for help through the Vocational Rehabilitation Program if:
You are legally blind or have other severe visual impairment
The physical or mental impairment creates and substantial barrier to employment
Vocational Rehabilitation services are required
Services
RSB's rehabilitation team works individually with each blind/visually impaired person in their home to determine what services will best help them reach their personal employment goal.  These  Vocational Rehabilitation services may include:
Diagnosis and Evaluation: Your counselor may request vocational and other assessments to determine eligibility and services needed.
Counseling and Guidance: RSB's team assists in assessing interests  and abilities so a suitable vocational goal can be selected.
Training: Whether it's daily living activities or vocational training to prepare for a specific job or career, RSB services are provided to meet individual needs.
Transition Services: Assist blind or visually impaired youth (age 14+) to transition to college and work. RSB may attend Individualized Education Plan (IEP) meetings. They may arrange for job exploration, work experiences, or college prep programs, as well as other skills to help youth transition to college and work.
Job Placement/Post-Employment: RSB counselors will help in job-seeking efforts. RSB counselors are also available to provide consultation for  those having difficulty maintaining employment due to decreased vision.
Rehabilitation Technology: There are many aids available to assist a blind individual's ability to work. These items help a visually impaired person by magnifying, reading text, and the help identify objects. RSB personnel are knowledgeable about these aids and can assist in selecting and providing the appropriate equipment for the job.
Resources
05/01/18