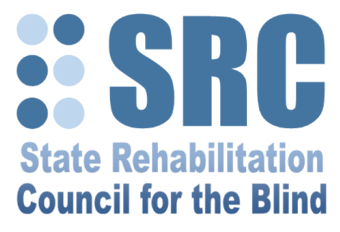 What is the Missouri SRC?
The Missouri State Rehabilitation Council for the Blind (SRC) provides advice and recommendations to RSB on programs, policies and processes in the vocational rehabilitation program. The SRC listens to comments and concerns regarding services RSB provides to Missourians who are blind or visually impaired at quarterly meetings across the state.
Meeting Information
Upcoming Meetings: August 3, 2023 Public Forum Notice
The SRC meets four times a year. Meetings are open to anyone with an interest in services for the blind. Meeting Minutes are available upon request for any meeting conducted by the council. Please send your requests to askrsb@dss.mo.gov. If you would like to attend a meeting and you need an interpreter, please contact us at 1-800-592-6004.
Council Members
Geoffrey Barney, St Louis - Chair
Brenda Whitlock, Kansas City - Vice Chair
Autumn Clark, Springfield
Brian Wekamp, Jefferson City
Carla Keirns, Kansas City
Rebecca Fletcher, Jefferson City
Jake McLaughlin, Kansas City
Jennifer Boeyink, St. Louis
Ian Shadrick, Jefferson City
Sharon Schuman, Jefferson City
Sheila Wright, Kansas City
Contact Us
If you have questions, you can call us at 573-751-4249. If you would like to send us your thoughts in writing, you can email us at askrsb@dss.mo.gov or mail to:
State Rehabilitation Council for the Blind
PO Box 2320
615 Howerton Court
Jefferson City, MO 65102-2320