About Managed Care
Managed Care is a way for you to get the health care services that you need. As a Managed Care Program participant, you receive your health care services through a MO HealthNet Managed Care health plan that you choose. 
Each health plan has a network of doctors, hospitals and other providers across the state of Missouri who you may see for care. Your health plan will help you see the right doctor when you need to and coordinate your care to help you stay healthy. 
As a Managed Care Program participant you must choose a health plan to get your health care. If you do not choose a health plan, one will be chosen for you.
To get started you need to:
Choose the health plan that works best for you
Choose a Primary Care Provider (doctor) from that health plan who you will see when you need health care services
Complete your enrollment with the health plan you choose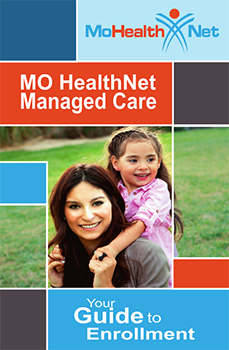 What do I need to do?
You need to be approved for MO HealthNet before you can receive services. If you do not currently have health care through MO HealthNet, you will need to see if you qualify and apply for services before you can get started in the enrollment process.
Frequently Asked Questions
Additional Resources