How to Enroll
When you are approved for MO HealthNet Managed Care, you will be assigned a Managed Care health plan. You have the right to change this health plan if:
It has been less than 90 days since you were assigned a health plan
It is your annual open enrollment period and you do not want to stay with the same health plan
You have "just cause" and the state approves your request
If you would like to change health plans, you will need to fill out and submit a change request form for each family member's health plan you would like to change.
You will get a confirmation letter in the mail about your new MO HealthNet Managed Care health plan and the date your coverage began. You will also get a welcome packet from the Managed Care health plan.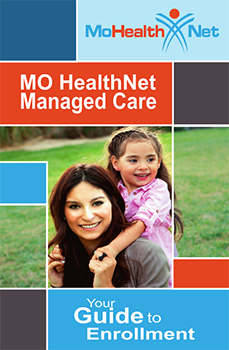 3 ways to change your health plan:
By Phone
Call the MO HealthNet Managed Care Enrollment Helpline:
Hours: Monday – Friday, 7 a.m. to 6 p.m. (except holidays)
By Mail
Included in your welcome packet was a Health Plan Change form and a prepaid envelope. Mail this completed and signed form to:
MO HealthNet Division
PO Box 104928
Jefferson City, MO 65110