How to Enroll
You will need to complete your enrollment each time you receive an enrollment packet in the mail.
You will receive an enrollment packet if:
You have been approved for the MO HealthNet Managed Care Program
You are already a Managed Care member and it is your open enrollment period
You must choose a MO HealthNet Managed Care health plan and complete enrollment for every eligible family member by the date shown on your enrollment form.
Once you complete your enrollment, you will get a confirmation letter in the mail about your MO HealthNet Managed Care health plan and the date you can begin getting services. You will also get a welcome packet from the Managed Care health plan.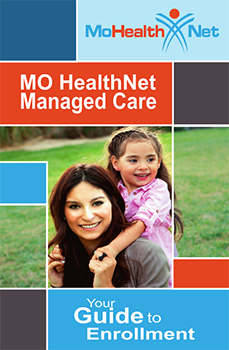 3 ways to enroll:
By Phone
Call the MO HealthNet Managed Care Enrollment Helpline:
Hours: Monday – Friday, 7 a.m. to 6 p.m. (except holidays)
By Mail
Mail your signed and completed enrollment form in the prepaid envelope to:
MO HealthNet Division
PO Box 104928
Jefferson City, MO 65110
Additional Resources
Sample Forms