Children's Services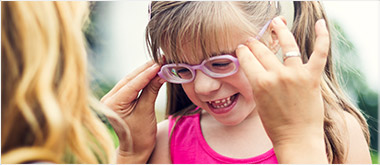 Rehabilitation Services for the Blind (RSB) has staff who specialize in providing free services to blind or visually impaired children ages 0-14 and their families.
RSB provides casework and/or counseling services to assist the family in increasing the child's potential and minimizing the impact of blindness.
---
What will RSB do for my child?
RSB staff will work with children and their families to:
Provide parent education on blindness in children and how to increase independent living skills
Provide advocacy services for blind or visually impaired children and their families
Attend Individual Education Plan (IEP) meetings at the request of the family or school
Provide referral and resource information to schools and families about issues involving vision loss
Provide services in the home and explain in detail how we can help
Children 14 and older are also served by RSB in our vocational rehabilitation transition program.
Who is eligible?
Children may be eligible for services if:
They have a significant vision impairment that meets RSB's visual disability guidelines
They and their family are residents of Missouri
Services are needed to enhance their abilities
They are under the age of 21 or in their final year of secondary education
NOTE: There is no lower age limit for Children's Services—the child can be referred as soon as you know they have a significant vision loss.
05/01/18