Youth Specialist
Location:

Statewide (see map for specific locations)

Pay Range:

$28,668 - $39,708 / $30,576 - $42,780
Position Description:
A Youth Specialist is a professional/trainee-level position working in a treatment program for juvenile offenders within the Division of Youth Services. The objective of the Youth Services treatment program is to assist the youth in our care to work together to solve problems in positive ways by teaching each other to behave responsibly. The Division of Youth Services believes youth in trouble have problems, which can most effectively be solved with support from peers and guidance from staff, including Youth Specialists, and by providing this support in a healthy and safe environment.
As a Youth Specialist I, an individual in this position will receive on-the-job and basic in-service training in the various methodologies and procedures utilized in residential and community service treatment programs. A Youth Specialist's work may be distinguished from the Youth Specialist Trainee by the degree of independence with which work is performed and the variety of duties, which may be assigned.
As a Youth Specialist II, the employee will implement group and individual treatment plans and develop constructive relationships with clients, co-workers and other treatment team members. Work involves observing and reporting information concerning behavioral conditions of clients and maintaining client records.
An individual employed as a Youth Specialist will have the opportunity to be part of a nationally recognized treatment program. Other rewarding experiences of being a Youth Specialist include assisting youth in building and developing life skills to enable them to become productive, responsible community members; conducting programs to teach youth about the value of teamwork; assessing and encouraging clients in their application of learned skills during scheduled activities; teaching clients the appropriate manner in which to deal with personal issues and referring certain issues to the peer group for resolution; and monitoring the youth and serving as a mentor. A Youth Specialist has responsibility for the safety, personal conduct, care and therapy of the clients in the Division of Youth Services' care.
Minimum Qualifications:
Youth Specialist I:
Necessary Special Requirements

Possession of a valid vehicle operator's license.
Ability to pass a background investigation administered by the Missouri Division of Youth Services.

Necessary Special Requirements (by assignment)

Possession of, or proof of ability to secure, an appropriate teaching certificate from the Missouri Department of Elementary and Secondary Education.

Experience and Education

(The following requirements will determine merit system eligibility, experience and education ratings, and may be used to evaluate applicants for Missouri Uniform Classification and Pay System positions not requiring selection from merit registers. When practical and possible, the Division of Personnel will accept substitution of experience and education on a year-for-year basis.)

Sixty or more earned credit hours or an Associate degree from an accredited college or university with a minimum of six earned credit hours in one or a combination of the following: Criminal Justice, Education, Psychology, Sociology, or Social Work.

OR

Two or more years of experience in group work which involved direct care and interaction with children (7-17 years of age) such as YMCA, schools, recreational facilities, or residential care programs, and possession of a high school diploma or GED certificate.

(Earned credit hours from an accredited college or university in Criminal Justice, Education, Psychology, Sociology, or Social Work may substitute on a year-for-year basis for the required experience at a rate of 30 earned credit hours for one year.)
Youth Specialist II:
Necessary Special Requirements

Possession of a valid vehicle operator's license.
Ability to pass a background investigation administered by the Missouri Division of Youth Services.

Necessary Special Requirements (by assignment)

Possession of, or proof of ability to secure, an appropriate teaching certificate from the Missouri Department of Elementary and Secondary Education.

Experience and Education

(The following requirements will determine merit system eligibility, experience and education ratings, and may be used to evaluate applicants for Missouri Uniform Classification and Pay System positions not requiring selection from merit registers. When practical and possible, the Division of Personnel will accept substitution of experience and education on a year-for-year basis.)

Two or more years of experience as a Youth Specialist I with the Missouri Division of Youth Services, and possession of a high school diploma or GED certificate.

OR

A Bachelor's degree from an accredited college or university with a minimum of 15 earned credit hours in one or a combination of the following: Criminal Justice, Education, Psychology, Sociology, or Social Work.

OR

Four or more years of work experience in a residential treatment program which included casework, group counseling, juvenile rehabilitation, probation and parole, and/or social work for children (12-17 years of age), and possession of a high school diploma or GED certificate..

(Earned credit hours from an accredited college or university in Criminal Justice, Education, Psychology, Sociology, or Social Work may substitute on a year-for-year basis for the required experience at a rate of 30 earned credit hours for one year.)
Job Opening Locations
Click on a region of the map or use the drop-down list to select a county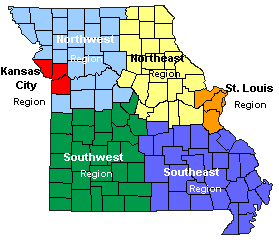 Equal Opportunity Employer