Electronic Visit Verification (EVV)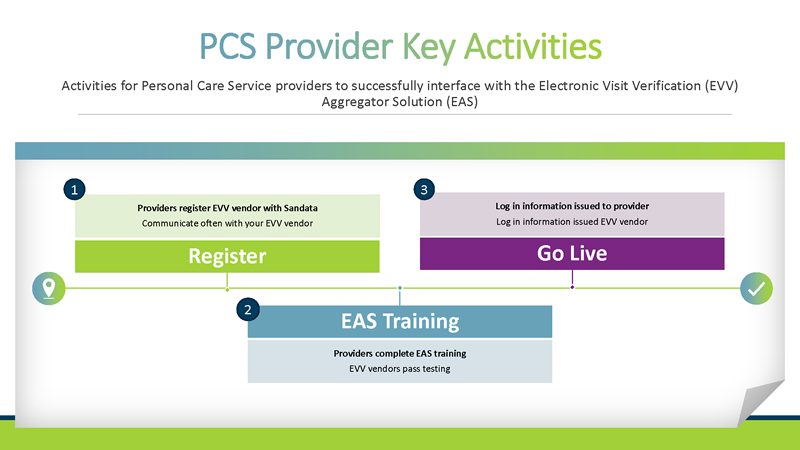 On December 13, 2016, the 21st Century CURES Act (114 U.S.C 255) was signed into legislation. The CURES Act was designed to improve the quality of care provided to individuals, enhance quality control, and strengthen mental health parity. A portion of the bill (Section 12006) requires Electronic Visit Verification (EVV) to be used for all Personal Care Services (PCS) and Home Health Care Services (HHCS) delivered under the Medicaid program.
EVV is a method of utilizing technology to capture point of service information related to the delivery of in-home services. EVV compliance can be achieved in a variety of manners, including but not limited to, the use of mobile applications with Global Positioning System (GPS) capabilities, telephony from a landline, fixed devices and biometric recognition.
In order to provide EVV services in the state of Missouri, all systems must verify the following:
Type of service performed (includes details specific to tasks for agency model and consumer directed services authorized by the Division of Senior and Disability Services (DSDS)),
Individual receiving the service,
Date of the service,
Location of service delivery when it begins and when it ends,
Individual providing the service, and
Time the service begins and ends.
State regulation regarding EVV compliance criteria and responsibilities is available at 13 CSR 70-3.320. This regulation is inclusive of all PCS delivered through the Medicaid program.
What Services Require the Use of EVV?
In Missouri, all PCS providers were required to have fully implemented EVV systems as of January 1, 2021. All personal care service providers should now be using an EVV system to collect data related to service delivery. As the state nears implementation of an aggregator solution, it is critical for PCS providers to ensure all participants receiving Medicaid funded services are aware of the requirements and understand the risk of losing services if utilization of EVV is refused.
All PCS services authorized by the Department of Health and Senior Services (DHSS) and/or the Department of Mental Health (DMH), Division of Developmental Disabilities (DD) must be verified through use of an EVV system in order to comply with the CURES Act.
EVV is required to document delivery of the following services:
Advanced Personal Care
Chore
Consumer-Directed Personal Care
Homemaker
In-Home Respite authorized by the Division of Senior and Disability Services (DSDS)
Personal Care
Any of the above services reimbursed by a Managed Care Organization
Note: There is no exclusion for situations in which there is a live-in caregiver.
EVV is NOT required for the following services:
PCS delivered in a facility where assistance is available 24 hours per day, such as a Residential Care Facility or an Assisted Living Facility
Provider Reassessments
Private Duty Nursing/Authorized Nurse Visits
Respite services authorized by the Division of Developmental Disabilities
Assisting individuals with their necessary daily needs during delivery of other DMH HCBS waiver services
Structured Family Caregiving
Additionally, in order to be in compliance, Home Health Care Service providers are required to implement EVV by January 1, 2023 for services delivered under the Medicaid program. Providers delivering these services will be required to acquire and utilize an EVV vendor by the deadline.
What Are the Benefits of EVV?
There are numerous benefits of EVV utilization, including but limited to:
Improved health and welfare of individuals through validation of delivery of services according to their personal plan and increased ability to monitor service delivery;
Reduction in the potential for fraud, waste and abuse by ensuring appropriate payment based on actual service delivery and by identification of duplicated or authorized services;
Elimination of paper documents to verify services;
Enhanced efficiency and transparency of services provided to individuals with increased accountability of provider agencies and direct care workers; and
More robust data collection and analysis capabilities.
What is Missouri Doing?
There are multiple EVV system designs that meet the requirements of the CURES Act. States are allowed to select the system design that best meets the current needs of the state, the service providers and the service recipients. In order to comply with the CURES Act, the Missouri Department of Social Services (DSS), MO HealthNet Division (MHD) has opted to pursue an open vendor model, allowing providers of PCS and HHCS to select the EVV vendor which best suits their needs, or to continue to utilize their existing system. MHD monies will not fund the implementation of the EVV vendor.
The state has announced the award of a contract for a vendor neutral aggregator solution to compile all data and present it in a standardized format for review and analysis. The contract was awarded to Sandata Technologies, LLC. Use of the aggregator solution will allow the state to maintain quality oversight while providing flexibility in vendor selection by PCS and HHCS providers. Following full implementation of the aggregator solution, state staff as well as designated staff from the PCS and HHCS provider agencies will have access to specific information related to service delivery from the aggregator system.
As part of their contract, Sandata Technologies, LLC will work with each EVV system utilized in the state to meet the technology requirements for the interface with the aggregator system. The EVV vendor funds any cost related to the interface. If after working with Sandata Technologies, LLC an EVV vendor is not able to meet the requirements of data collection or exchange with the aggregator, they will not be considered an acceptable EVV vendor. The provider will be required to select another EVV vendor to comply with the CURES Act. Any provider of Medicaid funded PCS who is determined to be out of compliance with EVV requirements will be at risk of losing their contract with Missouri Medicaid Audit and Compliance (MMAC).
This website will be updated with details regarding training, file layout requirements and an implementation timeline as more information becomes available. Sandata Technologies will soon initiate contact with EVV vendors in order to begin work toward the exchange of data with the aggregator solution.