Business Enterprise Program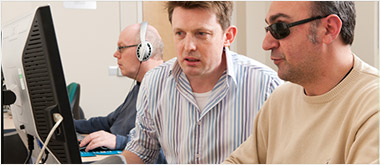 The Randolph-Sheppard Program is administered by Rehabilitation Services for the Blind's Business Enterprise Program (BEP). Lion's Business Opportunities for the Missouri Blind Inc., a private, not-for-profit corporation, acts as an agent for Family Support Division in the provision of management services and fund administration.


---
What services are available?
The BEP helps blind persons achieve success as self-employed entrepreneurs. The BEP:
Develops business sites in state, federal and other locations
Provides business opportunities including vending routes, convenience stores, snack bars, and full-service C
All program participants must successfully pass the National Restaurant Association (NRA) ServSafe Food Protection Manager Certification. Applicants are interviewed, tested and given work-site evaluations before acceptance for training.
Training
Manager training consists of classroom instruction and on-the-job monitored training at a variety of BEP facilities.
05/01/18